Republic of Congo (Brazzaville)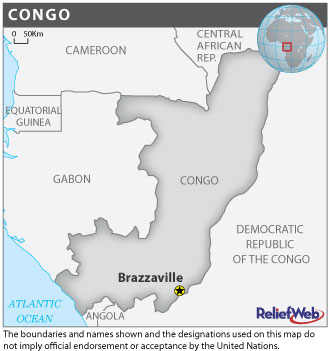 The republic of Congo has a population estimated at 3.7 million (UN, 2009) with an area of 342,000 sq km (132,047 sq miles). The capital is Brazzaville. The major languages are French and indigenous African languages.

The Republic of Congo has experience civil wars and militia conflicts. After three coup-ridden but relatively peaceful decades of independence, the former French colony experienced the first of two destructive bouts of fighting when disputed parliamentary elections in 1993 led to ethnically-based fighting between pro-government forces and the opposition.
Congo (Brazzaville) ratified The Convention on the Elimination of All Forms of Discrimination against Women (CEDAW) on July 26, 1982

Congo (Brazzaville) does not have a National Action Plan on United Nations Security Council Resolution 1325 (UNSCR 1325)

Congo (Brazzaville) does not have a UN peacekeeping mandate

Sources:BBC; Amnesty International; UNIFEM
February 26, 2010 (Global Voices Online)
Silence Speaks: Multimedia storytelling in Republic of Congo

Seven women affected by Congo-Brazzaville's (also known as Republic of Congo) civil wars between 1997 and 2003 came together in November 2009 for a four-day digital storytelling workshop organized in a partnership between the United Nations Development Programme Bureau for Crisis Prevention and Recovery (UNDP-BCPR) and the Center for Digital Storytelling's initiative Silence Speaks.

December 18, 2009 (Pambazuka)
AFRICA: Achieving Fifty Percent Women in Decision Making by 2015

Gender activists from East and Southern Africa have expressed shock at the backward trends in the 50/50 campaign in recent elections. The African Union (AU) has set a goal of achieving parity between women and men in decision-making by 2020, while the Southern African Development Community (SADC) target calls for 50% women in decision-making in all sectors by 2015.