Angola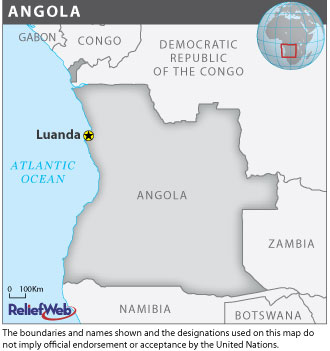 Angola has a population estimated at 18.5 million (UN, 2009) with an area of 1.25m sq km (481,354 sq miles). The capital is Luanda. The major languages are Portuguese (official), Umbundu, Kimbundu and Kikongo.
Angola continues to be impacted by the decades of civil war that ravaged the country since independence in 1975.
Angola ratified The Convention on the Elimination of All Forms of Discrimination against Women (CEDAW) in September 17, 1986

Angola does not have a National Action Plan on United Nations Security Council Resolution 1325 (UNSCR 1325)

Angola had a UN peacekeeping mandate: United Nations Observer Mission in Angola (MONUA) from June 1997 to February 1999
Sources:BBC; Amnesty International; UNIFEM
Angola Monitor


The Angola Monitor follows the progress of peace, stability, development and human rights in the country as it struggles to overcome the legacy of nearly 3 decades of war. Since the first multi-party elections in 1992, we have been monitoring the progress of democracy and peace in the region. The Monitor is produced in English and Portugese. You can subscribe to the Angola Monitor and get it sent direct to your inbox four times a year.