Liberia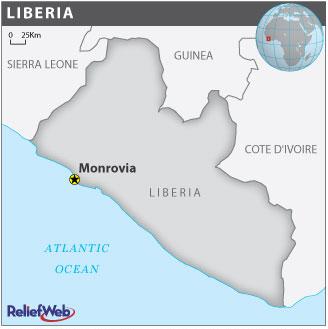 Liberia is Africa's oldest republic with a population estimated to be 3.9 million (UN, 2009) with an area of 99,067 sq km (38,250 sq miles). The capital is Monrovia. The main language is English and 29 African languages belonging to the Mande, Kwa or Mel linguistic groups.
Liberia experienced civil war in the 1990s and an estimated 250,000 people were killed in the civil war and many thousands more fled the fighting. Rape and other forms of sexual violence remain among the most frequently committed crimes in Liberia. According to the UN, there were 349 rapes reported between January and June 2008, a significant increase over the previous year. In May 2008, the government decided to establish a special court dedicated to hearing gender and sexual violence cases.
Liberia was the first African nation to elect a female President, with the election of Ellen Johnson Sirleaf to office in 2006. Sirleaf was elected to a second term in 2011 the same year in which she was awarded the Nobel Peace Prize.
Liberia ratified The Convention on the Elimination of All Forms of Discrimination against Women (CEDAW) on July 17, 1984
Liberia adopted a National Action Plan on United Nations Security Council Resolution 1325 (UNSCR 1325) on March 8, 2009. Please click here for further information
Liberia has a UN peacekeeping mandate: United Nations Mission in Liberia (UNMIL) which is one of the organization's most expensive peacekeeping operations.
Sources:BBC; Amnesty International; UNIFEM
Monthly Action Points on Women, Peace, and Security,

MAP

, December 2011
Monthly Action Points (MAP) on Women, Peace and Security, NGOWG, March 2011,

MAP

, March 1, 2011
Monthly Action Points (MAP) on Women, Peace and Security, NGOWG, February 2010 (NGO),

MAP

, February 1, 2010
Mano River Women's Peace Network

(MARWOPNET)




Marwopnet works to raise awareness among women's groups and organizations in the areas of human rights, democracy, gender equality and development in order to reinforce women's capacity in conflict prevention, management and resolution.