PeaceWomen Team: Staff and Interns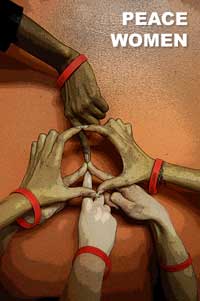 Maria Butler, PeaceWomen Project Director
Maria is the Director of the PeaceWomen Project of Women's International League for Peace and Freedom (WILPF). In this role, Maria manages the monitoring, advocacy and outreach work of WILPF's Project at the UN office in NY. She was the lead author of the "Women, Peace and Security Handbook", a ten year analysis of the Security Council's resolutions published in October 2010. Maria is an Attorney-at-Law and a member of the New York State Bar. She holds a Masters in Human Rights from the London School of Economics.
Prior to WILPF, Maria worked for the Permanent Mission of Ireland to the UN, and with Realizing Rights: The Ethical Globalization Initiative. She also founded and currently chairs a development initiative working in rural Kenya.

Abigail E. Ruane, PeaceWomen Program Consultant
Abigail is a PeaceWomen Program Consultant for the Women's International League for Peace and Freedom (WILPF). She will be running the PeaceWomen Project while Maria is on leave, and is responsible for maintaining key program areas during this time. Before joining PeaceWomen, Abigail acted as WILPF-US Representative to the United Nations (UN), consulted on gender and sustainable development at the Women's Environment and Development Organization (WEDO), and taught human rights courses at Hunter College. Abigail holds an M.A. and Ph.D. in International Relations from the University of Southern California (USC) and a B.A. in Psychology from Cornell University. She is committed to envisioning and creating a world of gender justice, peace, and freedom, and has written a book using J.R.R. Tolkien's The Lord of the Rings to explain and understand International Relations.

Current Interns
PeaceWomen is very excited to have such a dynamic team, coming from various regions around the world with diverse backgrounds and interests. PeaceWomen is pleased to work with Margaret Ruiz, Isma Aslam and Barbara Trojanowska for Summer / Fall 2013.
Isma Aslam
Isma received her Master of Arts in South Asian Studies from the University of Manchester. In addition to her interest in India-Pakistan relations and peace-building initiatives between the two nations and communities, she also became interested in gender issues. A majority of her master's coursework focused on the role of women as active agents in participating in civic society and social change in India and Pakistan. Her thesis analyzed the role of cultural exchanges by local peace initiatives in the larger India-Pakistan peace process. Through this analysis, she attempted to provide a space for the largely marginalized area of peace-building, especially on the local level, in the context of India and Pakistan relations, and also highlight the disconnect between on-the-ground initiatives and high-level policymaking. Her work on her thesis allowed her to meet peace activists in India and Pakistan, and work closely with them to track, document, and contribute to India-Pakistan relations and peace-building. Isma's primary academic and professional interests include peace-building, international relations, gender issues, and human rights advocacy.

Barbara Trojanowska
Barbara is currently enrolled in the Master Program in Gender Studies at the University of Oslo, Norway. She has been a visiting student researcher at the University of California, Berkeley where she has been doing research for her master thesis concerning US policy on women, peace and security. Barbara previously obtained her MA in Social Sciences from the University of Wroclaw, Poland, where she examined the relationship between gender equality discourses and multiculturalism in the Scandinavian countries. When it comes to her professional experience, Barbara has worked as a project coordinator for the Norwegian Peace Council for over two years. In Norway she was involved in the projects of the Nordic Women's University and she led a feminist student organization. She is currently a member of the San Francisco Bay Area Chapter of the US National Committee for UN Women. Her primary interests, both academic and professional, focus on gender programming, gender mainstreaming and transnational feminisms.

Margaret Ruiz
Margaret received her Bachelors of Arts from Syracuse University In International Relations, Political Science and European Literature. She took an Anthropological senior seminar with graduate students on Women, War and Peace. As an undergraduate student, she was selected as a student delegate for the Model United Nations team to attend the National Model United Nations Conference in NYC at UN headquarters and the Marriott where she represented the Republic of Gabon. Last summer she was the program intern for the African Peacebuilding Network at the Social Science Research Council, where she conducted extensive research on African peace and security issues.
Past Project Assistants and Consultants
Isabelle Cutting

Kristina Mader
Past Interns
Ariel Mekler (Fall 2012)

Sharna de Lacy (Fall 2012)


Sofie Säterh

all (Fall 2012)

Allison Chandler (Spring/Summer 2012)

Annette Wallgren (Summer 2012)

Brianna Martin (Summer 2012)

Dominique Lardner (Summer 2011-Spring 2012)


Leonore Tjia (Spring 2012)

Rebecca Leon (Winter/Spring 2012)

Fiona McAlpine (Winter 2012)

Grace Jennings-Edquist (Winter 2012)

Kelsey Collidge (Fall 2011)


Rebecca Paulsson (Fall 2011)

Leila Brollosy (Summer 2011)

Annie Hylton (Spring/Summer 2011)

Aziz Rahman Popal (Summer 2011)

Mriganka Lulla (Summer 2011

Stephanie Bloom (Fall 2010-Spring 2011)

Isabelle Cutting (Summer 2010-Spring 2011)

Barbara Gonzalez (Winter/Spring 2011)

Nicole Bianchi (Winter 2011)

Michelle Reyf (Fall 2010, Winter 2010)

Miruna Bucurescu (Fall 2010, Winter 2010)

Melissa Jaworowski (Fall 2010)

Karin Friedrich (Summer 2010)


Anna- Moller Loswick (Summer 2010)

Sasha Sleiman (Summer 2010)

Rachel LaForgia (Summer 2010)

Rachel Kean (Summer 2010)

Caitlin Deighan (Summer 2010)

Nicole Weitzner (Summer 2010)

Rubai Aurora (Spring 2010)

Emily Meyer (Spring 2010)

Rachel Reyes (Spring 2010)

Rai Sow (Spring 2010)

Sarah Ochs (Fall 2009, Spring 2010)

Tanya Quigley (Summer, Fall 2009)

Hali Thurber (Summer 2009)

Clara Donadello (Spring 2009)

Stephanie Thogersen (Spring 2009)