Eritrea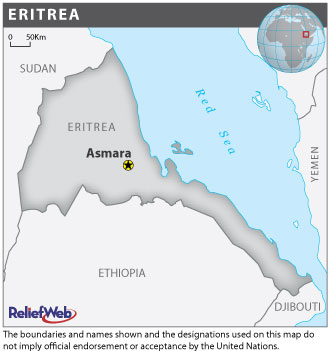 Eritrea has a population estimated at 5 million (UN, 2009) with a total area of 117,400 sq km (45,300 sq miles). The capital is Asmara. The major languages are Tigrinya, Tigre, Arabic and English.
Eritrea emerged from its long war of independence (with Ethiopia) in 1993. Eritrea continues to experience military conflict since its independence- with Yemen and then Ethiopia.
Eritrea ratified The Convention on the Elimination of All Forms of Discrimination against Women (CEDAW) on September 5, 1995

Eritrea does not have a National Action Pan on United Nations Security Council Resolution 1325 (UNSCR 1325)

Eritrea had a UN peacekeeping mandate: United Nations Mission in Ethiopia and Eritrea (UNMEE) from July 2000 to July 2008
Sources:BBC; Amnesty International; UNIFEM
Strategic Initiative for Women in the Horn of Africa

(SIHA)




SIHA is advocating for social change and gender equality for men and women in the Horn of Africa and working specifically on: gender equality, eliminating violence against women and girls, promoting human rights, peace building and conflict transformation, enhancing women's leadership as well as political participation and production and dissemination of knowledge.