Sierra Leone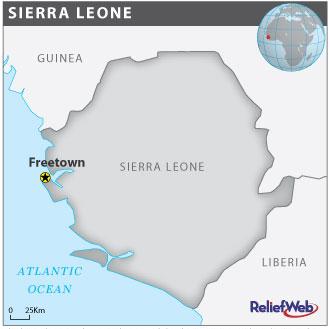 Sierra Leone has a population estimated at 5.7 million (UN, 2009) with a total area of 71,740 sq km (27,699 sq miles). The capital is Freetown. The major languages are English, Krio (Creole language derived from English) and a range of African languages.

Sierra Leone is recovering from a 10-year civil war which ended in 2002. During the Sierra Leone civil war, sexual violence was used in a widespread and systematic way as a weapon, and women were raped in brutal ways. Despite progress made by the entry into force of the legal acts in 2007, high rates of sexual and gender-based violence, and domestic violence continue to be reported.
On a more positive note, Charles Taylor, former Liberian President was found guilty the 26th of April 2012 in the Special Court for Sierra Leone, of aiding and abetting 11 crimes, including murder, rape, sexual slavery, and forced labor. This judgement sets a positive precedent for the international prosecution of war crimes as well as the ability of victims to access justice.
Sierra Leone ratified The Convention on the Elimination of All Forms of Discrimination against Women (CEDAW) on November 11, 1988

Sierra Leone adopted a National Action Plan on United Nations Security Council Resolution 1325 (UNSCR 1325) in March 2010

Sierra Leone does not have a UN peacekeeping mandate
Sources:BBC; Amnesty International; UNIFEM
SIERRA LEONE: Sierra Leone Report from the Field,

U.S. Department of State

, January 2, 2013
Freedom through Association: Assessing the Contributions of to Gender-Sensitive Police Reform in West Africa,

DCAF

, April 2012 | Download PDF
Monthly Action Points (MAP) on Women, Peace and Security, NGOWG, April 2011,

NGO Working Group on Women, Peace and Security

, April 1, 2011 | Download PDF
Gender, Conflict and the Millennium Development Goals,

Women for Women International

, November 2010 | Download PDF
Internalizing Resolution 1325: Evaluating the Implementation in Sierra Leone and Timor-Leste,

Renee Black

, September 28, 2010 | Download PDF