WILPF continues to work on MENA Agenda 1325 project. We are therefore proud to announce the launch of the new website! Please visit: http://mena1325.org/

In order to give attention to discrimination against women and support the reinforcement of women peace and security in Middle East and North Africa (MENA), the Women's International League for Peace and Freedom (WILPF) have in 2012 initiate a regional action agenda.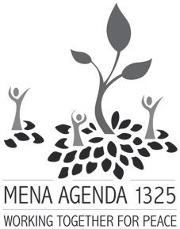 The program is current underway and aims to identify obstacles to, and opportunities for the advancement of, women's rights in the MENA, as mandated in both the Convention on the Elimination of All Forms of Discrimination against Women (CEDAW) and the women, peace and security resolutions of the UN Security Council.
The program has several phrases. The initial phases including national consultation and regional conference are detailed below.

WILPF MENA National Consultations
Women from eight countries in the MENA region—Iraq, Libya, Tunisia, Egypt, Jordan, Lebanon, Yemen and Morocco- participated in national consultations during May and June. Participants included experts and grassroots activists from women organizations including youth organizations.
The national consultations resulted in national reports and a consolidated pre-conference report which includes a summary of the country situations and 4 common thematic areas.
4 common themes:

What does "Women, Peace and Security" mean in the context of the MENA region?

How can women challenge militarism and influence the security sector?

Political and legal transformation in the MENA region - How can women participate in state building?

How can national, regional and international women's movement be re(built) and strengthened?
WILPF MENA Conference in Geneva
After process of national consultations, WILPF convened a regional conference on the Middle East North Africa (MENA) region in Geneva on June 20-22. Three participants from each country come to the regional conference and presented and discussed the outcome of the local consultations. WILPF also convened a side event in connection with the 20th session of the Human Rights Council (HRC) on 22 June 2012.
The participants adapted a joint statement at the regional meeting calling for:
Consult with women's civil society on all matters of state and regional security.

Refuse to fund or support any UN sponsored peace negotiations that do not have women as legitimate participants around the table.

Increase the numbers of representative women as part of all security reform processes
and disarmament initiatives including national and UN efforts.
Harmonize national constitutions and legislation with international law (including
CEDAW) to guarantee non-discrimination and promote women's rights and gender
equality.
Develop 1325 National Action Plans, in partnership with civil society, with
accountability mechanisms and ensure adequate and sustained funding for women's
organisations.
Stop arms sales to any country that violates human rights. In this regard, support a
criterion on preventing gender-based violence in the upcoming July 2012 Arms Trade
Treaty negotiation.
Read the full MENA Statement June 2012>>
WILPF MENA Side Event in Geneva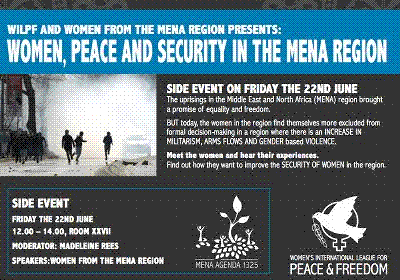 On Friday June 22, WILPF held a side event in Geneva. Madeleine Rees (WILPF Secretary-General) moderated the event with Panel representatives from MENA region. The event opened with a briefing on the 2-day conference and highlights of the key themes and recommendation for Member States. There was a screening of short news clip showing the violence suffered by one of conference participant in Egypt, Azza Helal Soliman. Azza then shared with the delegates her story and her call for justice.

Participants from Libya, Tunisia, Egypt, Jordan, Lebanon, Yemen and Morocco presented updates on the current challneges in their own contexts and recommendations for Member States, UN and international actors. A statement from Iraqi partners was read at the side event.

Azza Hilal Suleiman gave testimony during WILPF MENA conference in Geneva (June 20-22). Azza, an unarmed protestor, was attacked after trying to stop army officers from beating another unarmed female protestor on December 17, 2011 in Tahrir Square, Cairo, Egypt. When Azza saw Egyptian military pummel the veiled woman, she stepped in to help and got kicked and clubbed by security forces, a beating that was captured in a video that went viral around the world and also showed live gunfire and the violent removal of a Muslim woman's clothing.
Read Azza's testimony here>>
Other Information
This video features a summary by Madeleine Rees (WILPF Secretary-General) which gives some idea of the work WILPF has been doing, to allow women from that region, 7 countries, to get together and discuss problems they are facing there and mostly how they can help each other for the future.
This video features Rania Suleiman, from Lebanon who participated in the side event later today, where you can meet women activists from Libya, Tunisia, Egypt, Jordan, Lebanon, Yemen and Morocco.