The PeaceWomen Project Security Council Monitor includes three interlinked tools - Resolution Watch, Report Watch and Debate Watch. The goal of the monitor, which was started in 2006, is to extract and analyze the women, peace and security content in all Security Council resolutions, debates, and reports to the Council by the Secretary General. This information is then made available online for advocates to utilize in a timely way.
Updates:
Resolution Watch

For May 2013, the Security Council will discuss several countries that are currently monitored by PeaceWomen. We anticipate that resolutions will be adopted on Somalia, Guinea Bissau and Sudan. To view the full calendar for the Security Council, please visit our monthly calendar.
The most recent debate under the Women, Peace and Security agenda was held on April 17th, 2013. To read the summary and analysis of the debate, click here.
Security Council resolution 1960 (2010), the fifth and latest resolution on Women, Peace and Security, was unanimously adopted on December 16th, 2010. For information regarding the Open Debate during which the resolution was adopted, please visit Debate Watch here.
Open Debates
PeaceWomen Programme Women, Peace and Security Handbook: Second Edition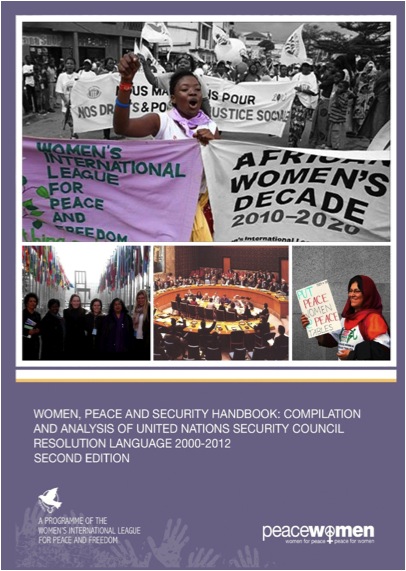 For the 12th annual open debate on women, peace and security, PeaceWomen launched the second edition of 'Women, Peace and Security Handbook,' which examines the degree to which the Security Council has internalised the thematic agenda of Women, peace and security in its geographic work over the past 12 years, specifically in the Council's country-specific resolutions.

Divided into twelve thematic chapters, the handbook is a reference guide for both progress made and action to be taken on the Women, Peace and Security agenda. The analysis assesses the consistency with which Council resolutions reflect the language and intent of SCR 1325. Good practice extracts from resolutions are presented and critical recommendations are made. This Handbook, like the 10th anniversary itself, is a call to action and a sincere effort to enhance the implementation of the Women, peace and security agenda. The recommendations call for the incorporation of more comprehensive language on women and gender in future country-specific resolutions.