Somalia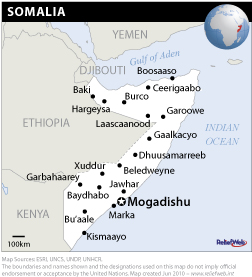 Somalia has a population estimated at 9.1 million (UN, 2009) with a total area of 637,657sq km (246,201 sq miles). The capital is Mogadishu. The major language are Somali, Arabic, Italian and English.

Somalia continues to experience violence and unrest. The collapse of the Somali Government in 1991 destroyed public institutions and governance structures. In October 2004, Somalia elected a President of the Transitional Federal Government (TFG) of Somalia and formed an interim government, known as the Somalia Transitional Federal Institutions (TFIs).
In 2007 the African Peacekeeping force AMISOM was deployed in Somalia. As of 2011 Kenya had entered Somalia to try and push out Al Shabab, the most prominent insurgent group, who have effectively held Mogadishu under seige since 2009 (BBC, 2009). 2011 saw the retreat of Al Shabab from Mogadishu, fighting however remains rampant and the country is still without a permanent National Government (CIA Factbook, 2012).
Violence against women, including domestic violence, rape and female genital mutilation (FGM) have been on the increase.
Somalia has not ratified The Convention on the Elimination of All Forms of Discrimination against Women (CEDAW)
Somalia does not have a National Action Plan on United Nations Security Council Resolution 1325 (UNSCR 1325)
Somalia had a UN peacekeeping mandate: United Nations Operation in Somalia I (UNOSOM I) from April 1992 to March 1993 and United Nations Operation in Somalia II (UNOSOMA II) from March 1993 to March 1995.
Sources:BBC; Amnesty International; UNIFEM
Monthly Action Points on Women, Peace, and Security,

MAP

, December 2011
Monthly Action Points (MAP) on Women, Peace and Security, NGOWG, January 2010 (NGO),

MAP

, January 1, 2010
Monthly Action Points (MAP) on Women, Peace and Security, NGOWG, November 2009 (NGO),

MAP

, November 1, 2009
Strategic Initiative for Women in the Horn of Africa

(SIHA)




SIHA is advocating for social change and gender equality for men and women in the Horn of Africa and working specifically on: gender equality, eliminating violence against women and girls, promoting human rights, peace building and conflict transformation, enhancing women's leadership as well as political participation and production and dissemination of knowledge.