Sudan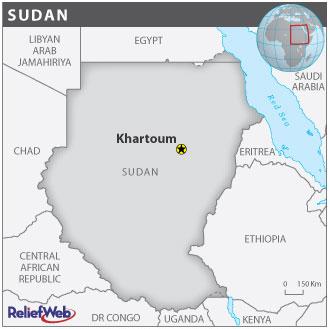 Sudan is the largest and one of the most geographically diverse countries in Africa. Sudan has a population estimated at 42.2 million (UN, 2009) with an area of 2.5 million sq km (966,757 sq miles). The capital is Khartoum. The major languages are Arabic, English (official) and others.

Sudan continues to experience unrest and violence. Several phases of north-south civil war cost the lives of over 1.5 million people. A continuing conflict in the western region of Darfur has displaced over two million people and killed more than 200,000. Incidents of gender-based violence, including rape and other forms of sexual violence, continue in Sudan.
In 2011 following a referendum on independence Sudan and South Sudan became two independent states.
Sudan has not ratified The Convention on the Elimination of All Forms of Discrimination against Women (CEDAW)

Sudan does not have a National Action Plan on United Nations Security Council Resolution 1325 (UNSCR 1325)

Sudan has two UN peacekeeping mandate: African Union-United Nations Hybrid Operation in Darfur (UNAMID) and the United Nations Mission in the Sudan (UNMIS)
Sources:BBC; Amnesty International; UNIFEM
Frozen Words: Memory and Sexual Violence Amongst Sudanese Refugee Women in Cairo,

Ginger A. Johnson

, 1st of June 2012 | Download PDF
Sudan Vision: Details: The Concept of Citizenship Interface With Gender Issues; Parts 1, 2, 3,

Sudan Vision

, 13 - 17 November 2011
SUDAN: Conflict Resolution Training for Women Leaders in West Darfur,

Sudanese Women Union

, 21 September
Haraza Organisation for Peace and Development,

Haraza Organisation for Peace and Development

, 15 September - Ongoing
Monthly Action Points (MAP) on Women, Peace and Security, NGOWG, June 2011,

NGO Working Group on Women Peace and Security (NGOWG)

, May 31, 2011 | Download PDF
Strategic Initiative for Women in the Horn of Africa

(SIHA)




SIHA is advocating for social change and gender equality for men and women in the Horn of Africa and working specifically on: gender equality, eliminating violence against women and girls, promoting human rights, peace building and conflict transformation, enhancing women's leadership as well as political participation and production and dissemination of knowledge.